News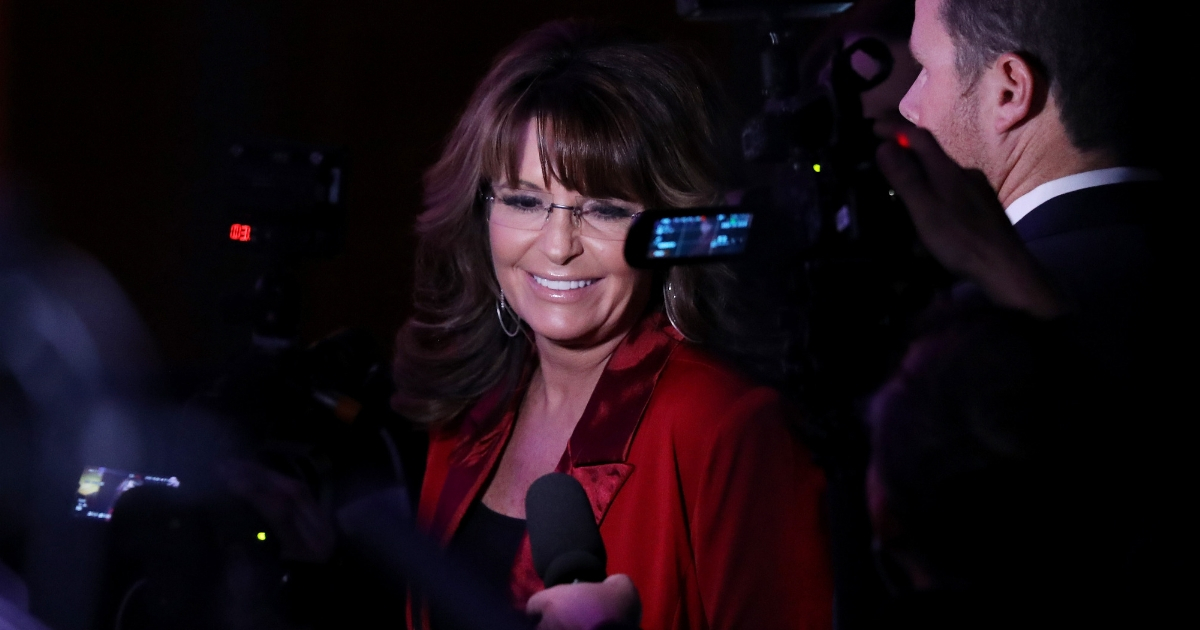 Sarah Palin Teases Return to Politics, Gets an Avalanche of Hate Toward Her Children
Former Alaska Gov. Sarah Palin teased a return to politics on Friday, spawning hateful responses directed primarily at her family.
On Friday, the Senate voted to advance Supreme Court nominee Brett Kavanaugh, paving the way for a full vote as early as Saturday.
All Republican senators voted for the nominee, except for Lisa Murkowski of Alaska.
Advertisement - story continues below
Following Murkowski's decision to side with Democrats on the vote, Palin directed a message at the senator on Twitter.
"Hey @LisaMurkowski– I can see 2022 from my house…," Palin tweeted, referencing the next year Murkowski would be up for re-election.
Hey @LisaMurkowski – I can see 2022 from my house…

— Sarah Palin (@SarahPalinUSA) October 5, 2018
Palin's tweet alludes to a 2008 SNL sketch in which actress Tina Fey, portraying Palin, had a line saying, "I can see Russia from my house."
Advertisement - story continues below
Murkowski has never achieved a majority in any Senate election. In 2016, Libertarian candidate Joe Miller polled 29.2 percent of the votes against her. In 2010, Miller won the GOP primary but lost the general election to Murkowski, who was first appointed to the seat when her father, Frank Murkowski, became governor.
Palin's tweet, as with everything she does, tapped reservoirs of deep support and deep hate, much of which was directed at her children.
Do you want Sarah Palin back in politics?
And the good news is that her son Track Palin will be out of jail by then. https://t.co/h0UDl3jATF

— Molly Jong-Fast (@MollyJongFast) October 6, 2018
Somebody tell Sarah to watch over her own family, not the Countries. When she can do that, people may listen again. https://t.co/WG1wZWvwtV via @thedailybeast

— Beau James (@oceanbroker1) October 6, 2018
Advertisement - story continues below
Others stood by her.
1/2 And, by the way, I never attack Sen. Murkowski as a woman. I attacked her for not being a Republican, which she purports to be, or representing the conservative/libertarian sensibilities of Alaskans. I also attacked the fact that she first got her senate seat through nepotism https://t.co/iP0OT9kMci

— Rebecca Mansour (@RAMansour) October 5, 2018
2/2 And I defended that fact that a brave woman whistleblower was the only person to ever defeat the crony corruption of the Murkowski family. That woman was @SarahPalinUSA, and I'm sure you have plenty of misogynist attacks to throw her way, just as you've thrown them at me. https://t.co/JUXim5AOSY

— Rebecca Mansour (@RAMansour) October 5, 2018
In an interview with the Daily Mai in September, Palin said she and her husband have big plans for the future.
Advertisement - story continues below
"We're finally in that spot where we can seize the opportunity to get outside and do more," she said. "'And we're ready to do a lot more."
Palin and her husband, Todd, have five children. Their fourth, Piper, has just started her last year of high school. Their youngest, Trig, who has Down syndrome, travels with them.
Palin was a star of the conservative movement that rose in opposition to former President Barack Obama, and subsumed her activity in the campaign of President Donald Trump. As with many key Trump supporters, there were rumors of her holding a position in Trump administration but none materialized.
Palin has talked of going deeper than politics.
Advertisement - story continues below
"I want to do something that will influence our culture. To really remind people how important a work ethic is and to try to erase a lot of this idea that people have that government owes them anything. Or that anybody owes them anything," she told the Daily Mail.
"I want to be in some positions here to get that message out there, how important it is to be independent, get out there and work for yourself," she added.
Palin, who cultivated a reputation as a political firebrand, said there is no point for the GOP to be in power without aggressive action.
"They're in power. They've got the House, the Senate, they have the administration and yet they're acting like victims and they're always on defense. That's not what the supporters of the platform expect. We expect to be on offense in order to clean things up — drain that swamp — get government back on our side and get it off our backs and quit playing victim all the time! You're not going to win a ballgame only playing defense."
Conversation