News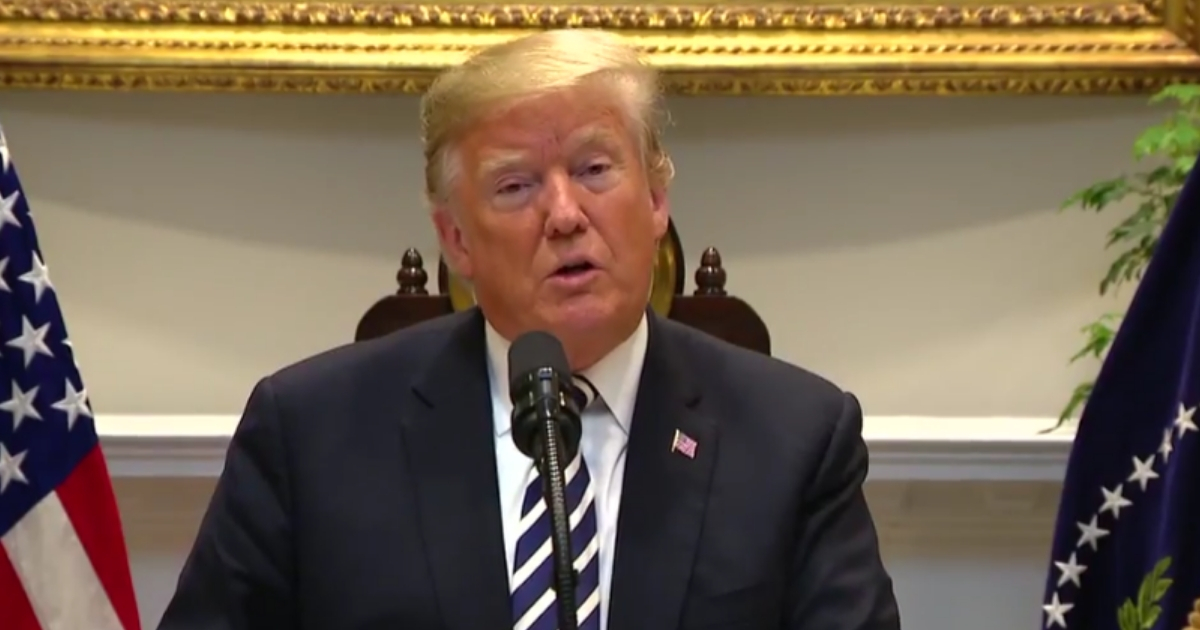 Trump Announces a 'Comprehensive' Executive Order on Immigration Is Coming Next Week
President Donald Trump announced from the White House on Thursday that the United States would soon change its immigration policies to combat what he called the "crisis at our southern border."
The president addressed the issue of asylum-seekers, who he said the administration will require to "lawfully present themselves" at a port of entry for the possibility of asylum.
Trump talked about America as a "welcoming country," and said it would continue to be so under his administration.
Advertisement - story continues below
The president cited the 40 million green cards the United States has issued since 1970, calling our temporary citizenship program the largest on the planet.
Trump's comments were made as America faces a surge of migrants who are making their way north toward the border, presumably to force the United States to allow them to enter.
"We will not allow our generosity to be abused by those who would break our laws, defy our rules, violate our borders, break into our country illegally — we won't allow it," Trump said.
Advertisement - story continues below
"Mass uncontrolled immigration is especially unfair to the many wonderful law-abiding immigrants already living here, who followed the rules and waited their turn."
As part of the new plan that the president rolled out Thursday, those who apply for asylum will be housed in tent cities or other government holding centers until their case can be heard by the proper authorities.
Do you think the president's plan is fair?
The president addressed the many who have previously applied for asylum and were given free rein and released into the United States.
"They never show up at the trials," Trump said, referring to those who claim asylum and are then released, but fail to show up for their scheduled court appearance.
"They never come back, they're never seen again."
Advertisement - story continues below
Trump called the migrants who are making their way to the southern border in a caravan from Central America "not legitimate asylum-seekers" because of their decision not to stay in the nearest country that offered asylum, which in most cases was Mexico.
"Asylum is not a program for people living in poverty," he said.
As for those who plan to force their way into the United States, the president warned that those guarding the border would not hesitate to return in kind.
The president referenced members of the caravan who threw rocks at Mexican police on their way through that country.
Advertisement - story continues below
"We're not going to put up with that.," Trump continued. "They want to throw rocks at our military, our military fights back. I told them to consider it a rifle. When they throw rocks, like they did at the Mexico military and police, I said, consider it a rifle."
Trump said he planned to issue a "comprehensive" executive order next week on immigration and the asylum plan.
"If these caravans are allowed into our country, only bigger and more emboldened caravans will follow — and you see that's what's happening now," Trump said.
Omar Jadwat, the director of the ACLU's Immigrants' Rights Project, released a statement that condemned the president's announcement.
Advertisement - story continues below
"If he plans at some point to prohibit people from applying for asylum between the ports of entry, that plan is illegal," Jadwat said.
"What is clear from the timing and vague nature of today's remarks is that he is simply trying to inflame his base in the final run-up to the midterms."
Conversation