News
10 Things You Need To Know About Wyoming
On July 10, 1890, Wyoming became a state, adding the 44th star out of the 50 we've managed to put to the flag. It was a sparsely populated territory those 128 years ago, and it's sparsely populated now. However, if you think it's just a big flat square of land filled with plains and modern frontiersmen, that's where you're wrong.
In honor of the 128th anniversary of Wyoming statehood today, here are ten facts about a home state where the buffalo roam.
1. It's the "Equality State."
Advertisement - story continues below
Every state needs a nickname. Some are a bit inscrutable; for instance, I know the yellowhammer is a bird, but why Alabama felt it was the proper representation of their state I have no idea. Some are ironic: As a former resident of New Jersey, I often thought the Olive Garden State might have been more apropos than the Garden State. However, Wyoming's nickname fits it perfectly.
Women got the right to vote in the United States in 1920 with the passage of the 19th Amendment. However, if you were out in Wyoming, you could vote over half a century earlier, in 1869. If they wanted to become a state, they needed a certain amount of voters. If it was just men, Wyoming was never going to clear the bar. However, if you added in women, they had a much better chance of making the grade. This got Wyoming the name the Suffrage State, later changed to the Equality State. They also had the country's first female governor. They continue this tradition until today: Their at-large representative is Liz Cheney, daughter of the state's most famous politician, former Vice President Dick Cheney.
Another nickname for Wyoming — although not the official one — is the Cowboy State. There's some pretty obvious reasons for this, as evinced below:
Advertisement - story continues below
The University of Wyoming's teams are known as the Cowboys, something that fans of recent NFL draft pick Josh Allen will be aware of.
2. It has one of the coolest lakes you'll ever see.
One of the main attractions in Wyoming is, of course, Yellowstone National Park, which also includes parts of Montana and Idaho. However, one of Yellowstone's most awesome attractions lies squarely within Wyoming: Sunset Lake.
Sunset Lake is on the Black Sand Basin Trail — which, according to Natural Atlas, is one of the shorter thermal basin trails in the park. However, it has some of the most spectacular thermal basins in a park known for them — including Sunset Lake.
Advertisement - story continues below
You can see why the lake got its name. How it got that color, however, involves certain microorganisms similar to algae that off colors from azure to dark brown and everything in between. Oh, and it's close to this geyser named Old Faithful; I've heard it's worth a visit.
3. It's still pretty sparsely populated.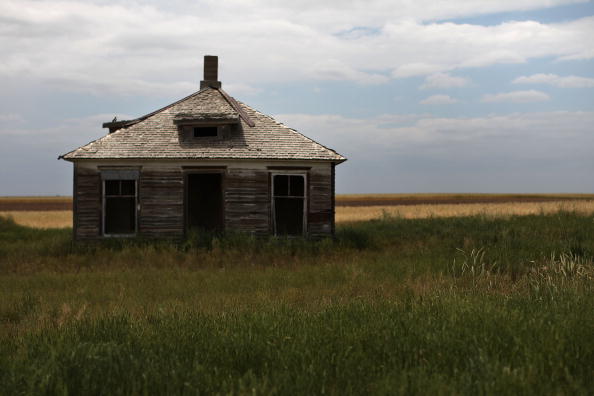 Over a century and a quarter since it became a state, Wyoming is still our least-populated state, with 585,501 residents as per the Census Bureau's 2016 estimate. The next closest is Vermont, which has 624,594 residents — and it's a lot smaller than Wyoming. Even frozen Alaska, which isn't exactly the most hospitable place in the world, has over 700,000 residents.
Advertisement - story continues below
Wyoming's two largest cities — the capital of Cheyenne and Casper — are the only locales with populations of over 50,000 people, with 59,466 and 55,316 as of the 2010 Census, respectively. Number three is Laramie, with 30,816. No other municipality tops 30,000 people.
You may have surmised this, but the numbers prove it: if you want some small-town living combined with a lot of open space, Wyoming's your place.
4. You can eat at Bubba's in the favorite vacation spot of the world's most famous Bubba.
Aside from Yellowstone, one of the most popular vacation spots in Wyoming is Jackson Hole, a skiing town favored by the rich and famous. It's a kind of combination between Aspen chic and Old West charm. And it's got some pretty awesome eats.
Advertisement - story continues below
In fact, my favorite restaurant from several visits to Jackson Hole has been Bubba's Bar-B-Que. Described as "Jackson Hole's longest-running and most-visited BBQ joint," where The Washington Post reports that "millionaires wait half an hour for the baby-back ribs," Bubba's is a place where you can begin your day with smoked pork chops and eggs and a heaping pile of beef brisket for $18 at night. God bless America.
It's ironic that Bubba's is in Jackson Hole, since Jackson Hole is a favorite spot to unwind for the world's most famous Bubba: former President Bill Clinton.
"Two years after he nearly came here on his first Presidential vacation, Bill Clinton arrived today in this cool, clean, cloudless valley where moose are moose, mountains are mountains and the word that goes naturally with white water is rafting, not hearing," The New York Times reported of a 1995 visit to the Wyoming town.
"To handle the Presidential appetite, there is the aptly named Bubba's Bar-B-Que for smoked and roasted meats," they noted.
Advertisement - story continues below
I'm not sure whether or not Bubba visited Bubba's, although given his propensity for BBQ and frequent visits to Jackson Hole, I'd say that it's a near impossibility he didn't.
5. It's the site of one of the most famous battles of the Wild West days.
It may not be as famous as the gunfight at the O.K. Corral, but the Johnson County War may have been more influential. It began in 1889 as a campaign by large cattle companies against cattle rustlers. Over the subsequent years, it escalated greatly.
"On April 5, 1892, 52 armed men rode a private, secret train north from Cheyenne. Just outside Casper, Wyo., they switched to horseback and continued north toward Buffalo, Wyo., the Johnson County seat," the Wyoming Historical Society writes on their website. "Their mission was to shoot or hang 70 men named on a list carried by Frank Canton, one of the leaders of this invading force.
Advertisement - story continues below
"The invaders (as they came to be known) included some of the most powerful cattlemen in Wyoming, their top employees and 23 hired guns. The invasion resulted from long‑standing disputes between these cattle barons, who owned herds numbering in the thousands, and small operators, most running just enough cattle to support their families. The event came to be called the Johnson County War. Longtime Wyoming historian T.A. Larson ranked it 'the most notorious event in the history of Wyoming.'"
While the well-financed cattle barons made it out that they were just trying to protect their investment with their well-financed force, the people of Johnson County saw the barons trying to drive out the little guy through force.
After pitched battles, assassinations and political turmoil, the cattle barons' monopoly was eventually broken. After 1893, a relative truce was reached, "although it wasn't until 16 years later that armed economic vigilantism was finally stopped in Wyoming," the Wyoming Historical Society notes.
The battle also inspired the truly awful 1980 movie "Heaven's Gate" — a monumental, incoherent bomb by "The Deer Hunter" director Michael Cimino, which more or less ended his career. Almost a century after the Johnson County War began, it seems, it claimed its last victim.
Advertisement - story continues below
6. It's big on mining.
If you're looking to get a job in Wyoming, it probably helps to have some sort of knowledge in the mining field. In the 128 years that it's been a state, it's transformed itself from a cowboy paradise into one where extracting raw materials from the earth — including oil, gas and coal — not only drive's the state's economic engine but manages to keep tax burdens low for state residents.
"According to a 2005 analysis by Boston College, 29 percent of Wyoming's GDP comes from mining. Extractive industries shoulder most of the tax burden in the state since there are no personal or corporate income taxes and few taxes of any other kind," Newsmax reported in 2015.
"Mineral extraction accounts for more than 94 percent of the property taxes paid in the state."
Advertisement - story continues below
Wyoming is also one of the top energy producing states overall, according to Yahoo Finance, and 41 percent of the nation's coal came from Wyoming. Given that the current administration is big on coal, that can only be good news.
7. It's big on National Parks and Monuments, too.
If you're one of those people who likes National Parks and Monuments, you're also going to love Wyoming. Yes, of course there's Yellowstone — the first National Park, after all — but that's just the tip of the mountain.
Just south of Yellowstone is Grand Teton National Park, which is also pretty awe-inspiring in its own right. It's home to the Teton Range and the 13,775-ft. Grand Teton mountain, which should be a fairly easy climb for just about anyone.
Advertisement - story continues below
Then there's the Bighorn Canyon Recreation Area, which extends into Montana. Between 17 miles of hiking trails and doing some canoeing on Bighorn Lake, it's a fun weekend destination for anyone who loves the outdoors.
Of course, if you're a movie buff, you're going to have to make a pilgrimage to the Devil's Tower, a butte in the northeastern part of the state which figures heavily in "Close Encounters of the Third Kind." (Spoiler alert: the aliens end up landing there.) There isn't any mashed-potato model of the monolith to be found there, but we'll leave that up to you.
8. That bronco on the state's license plate actually has a name.
You've probably seen Wyoming's license plates, what with a cowboy riding a very angry bronco. It's a pretty iconic figure, so much so that it's become the official symbol of the state.
Advertisement - story continues below
However, that's not just a random horse in the logo. His name is actually Steamboat, and any cowboy who decided to ride him was playing dice with their lives.
"Steamboat had a reputation for wicked, violent bucking, swapping ends and twisting by kicking his fore and hind legs in two different directions," the Wyoming Historical Society notes. "He was also known for 'sunfishing,' in which a horse launches himself swiveling on a horizontal axis, aiming his belly away from the ground. Apparently, he always bucked when mounted, often landed stiff-legged and had unusual stamina. More than one cowboy called him a true outlaw. Very few rode him to a standstill.
"The familiar logo that now appears everywhere in Wyoming began with Secretary of State Lester Hunt in 1935, when automobile license plates were standardized and the legislature directed Hunt to develop a unique design. Hunt selected a drawing by Allen True, of Denver, who had painted the murals in the Wyoming House and Senate chambers nearly two decades earlier. In 1936 the logo was stamped on all license plates. It has been used ever since."
Steamboat's definitely earned his venerable status, from the sound of things.
Advertisement - story continues below
9. It's the home of the jackalope.
With the exception of Bigfoot, the chupacabraand the Jersey Devil, few fictional creatures are quite as well known as the jackalope. A jackrabbit with antlers, it's been inspiring weird theories for almost a century now. And it's a creature a) 100 percent of Wyoming provenance and b) 100 percent fake.
The whole thing, according to The New York Times, began with Douglas Herrick.
"In 1932 (other accounts say 1934, 1939 and 1940, but Ralph Herrick swears it was 1932), the Herrick brothers had returned from hunting," they reported after Herrick's 2003 death. "'We just throwed the dead jack rabbit in the shop when we come in and it slid on the floor right up against a pair of deer horns we had in there,' Ralph said. 'It looked like that rabbit had horns on it.'
Advertisement - story continues below
"His brother's eyes brightened with inspiration. 'Let's mount that thing!' he said. "That was tens of thousands of jackalopes ago." Now, by combining taxidermied jackrabbits with antlers, they've created Wyoming's very own Loch Ness monster.
"In 1965, the state of Wyoming trademarked the name, and in 1985 Gov. Ed Herschler pronounced it the animal's official home. Jackalope images adorn everything from park benches to fire trucks," The Times reported.
10. It's actually guilty of Russian collusion, courtesy of Rocky Balboa.
Those of us familiar with sports movies and/or late-night television will no doubt be familiar with "Rocky IV," which was the point where the series truly became legit insane. (Before, of course, Ryan Coogler stepped in and saved it.)
Advertisement - story continues below
If you're not familiar, here's the plotline: Rocky's longtime training partner and frenemy Apollo Creed is killed by Soviet boxing machine Ivan Drago, played with preposterously sneering aplomb by Dolph Lundgren. Rocky agrees to fight Drago on Christmas Day in Russia to revenge the death of his friend. He stays in a cabin in the middle of the wintry Russian wilderness before the fight; in one of the movie's most famous scenes, a montage shows Rocky training with rocks and logs in the snow while Drago trains in a hypermodern Soviet gym.
There are a few things wrong with this, beyond the fact that the Soviets couldn't afford anything hypermodern by the mid-1980s. But there was also the fact that Balboa wasn't training in Russia. In fact, all of the cabin scenes were filmed in the aforementioned Jackson Hole, Mental Floss reports, and the landscapes were of Grand Teton National Park.
This means only one thing, of course: It's time to drag Sylvester Stallone before the Senate Intelligence Committee.
So, happy 128th, Wyoming. Sure, you may be our least populated state, but that makes your natural landscapes and your legends all the more awesome. Here's to another 128 years of Yellowstone, Steamboat the bronco, coal mining, jackalopes and Bubba's Bar-B-Que in the Equality State.
Conversation