Op-Ed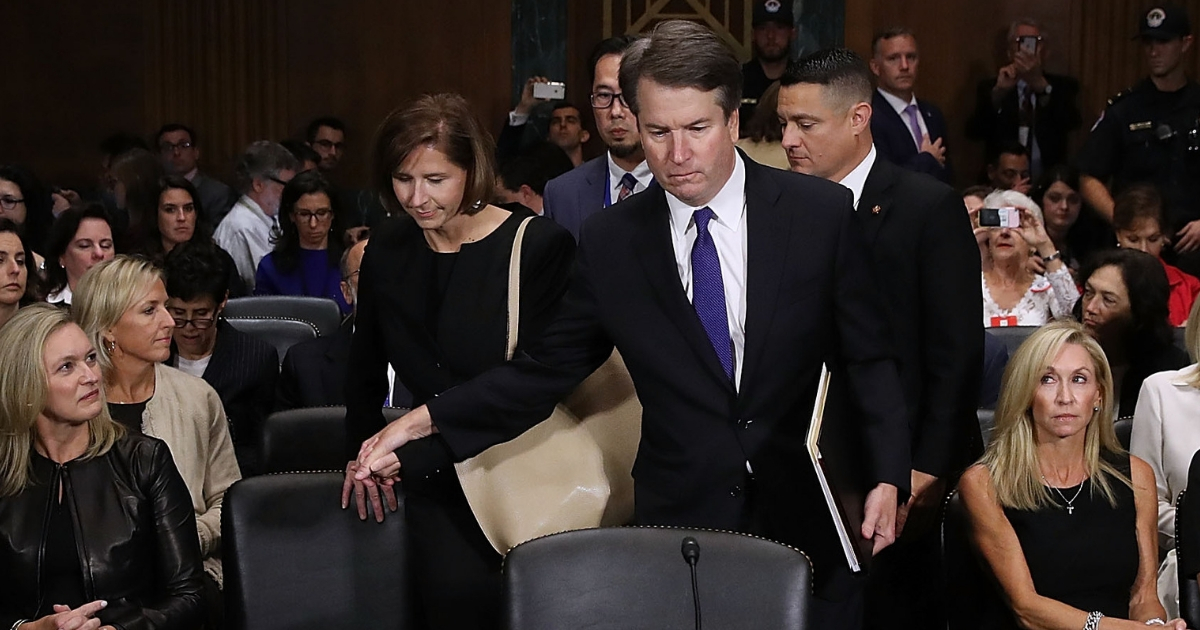 Brett Kavanaugh Didn't Enlist in the Culture War, He Was Drafted
Prior to his nomination for a seat on the Supreme Court, Brett Kavanaugh probably did not see himself as a combatant in the culture war.
After all, his judicial voting record was almost identical to that of Merrick Garland's, who was President Obama's nominee to fill the Antonin Scalia seat. Garland and Kavanaugh served on the same court for years and have voted the same way 93 percent of the time.
And yet, like it or not, Kavanaugh is a combatant now. Today, he is a full participant in the war to preserve Western values. Simply put, he got drafted.
Advertisement - story continues below
I, for one, welcome him into our Western Values Army because he is a good man and because I am happy to have as many combatants as we can muster. We need every one of them.
I did not know Brett Kavanaugh or anything about him until a few months ago, although as a former litigation attorney I knew plenty of federal judges. Usually, they don't engage in street combat on any front of today's culture war. They usually stay away from politics and refrain from commenting publicly on issues like border security, racial quotas or sexual identity.
For a variety of good reasons most judges very rarely abandon decorum, civility and modesty and enter into a messy political debate. One notable exception is ex-ACLU attorney and now Supreme Court Justice Ruth Bader Ginsburg. She is a warrior and street fighter for the left. And, she is a volunteer, not a draftee.
She has not hesitated to get into the gutter and throw political mud. Even before the American public voted in 2016, she inserted herself into the election fight and publicly called candidate Donald Trump a "faker," with "no consistency." She also claimed she "could not imagine" what our country would turn into if he were elected president.
Advertisement - story continues below
How about now, Justice Ginsburg? Could you have imagined all his accomplishments? Indeed, do you even consider standing up for traditional American values to be an accomplishment at all? Probably not, although you would never admit it.
That's one of the tactics of the left. At the same time that they lie about loving America, they seek to destroy all of the cultural values and institutions that gave it life and continue to sustain it. They praise the goose that laid the golden egg of our Western culture while at the same time they wring its neck.
Do you think the left is trying to destroy America?
Kavanaugh, as opposed to Ginsburg, never voluntarily entered this culture war, at least not during the time he served as a judge. Indeed, one gets the impression that he considered it his duty to repress and ignore his personal views on cultural issues when he was deciding cases.
That is because he did not affirmatively seek to be a combatant. But he is one now. They dragged him into it, and he got "woke." He now undoubtedly sees that this war is a life or death struggle, not just for his reputation and family, but for America as well.
He may not have understood the viciousness and despotism of the left two months ago, but he doubtless sees it today.
Advertisement - story continues below
I say this is good for our side. We cannot afford to have non-leftists declare that they are conscientious observers. We cannot afford to let them say: "I don't want to fight."
When your army is surrounded in hostile territory every man must take up arms. Even conscientious observers can understand this, as soon as they realize that the enemy wants to kill them, too.
That's when you get woke. That's when you realize what's at stake. That's when you realize that you either fight or die.
Brett, remember this: Die we might, but fight we must. Stay strong. There are plenty by your side. If you go down, at least go down fighting. Stand for something my brother.
The views expressed in this opinion article are those of their author and are not necessarily either shared or endorsed by the owners of this website. If you are interested in contributing an Op-Ed to The Western Journal, you can learn about our submission guidelines and process here.
Conversation