Sports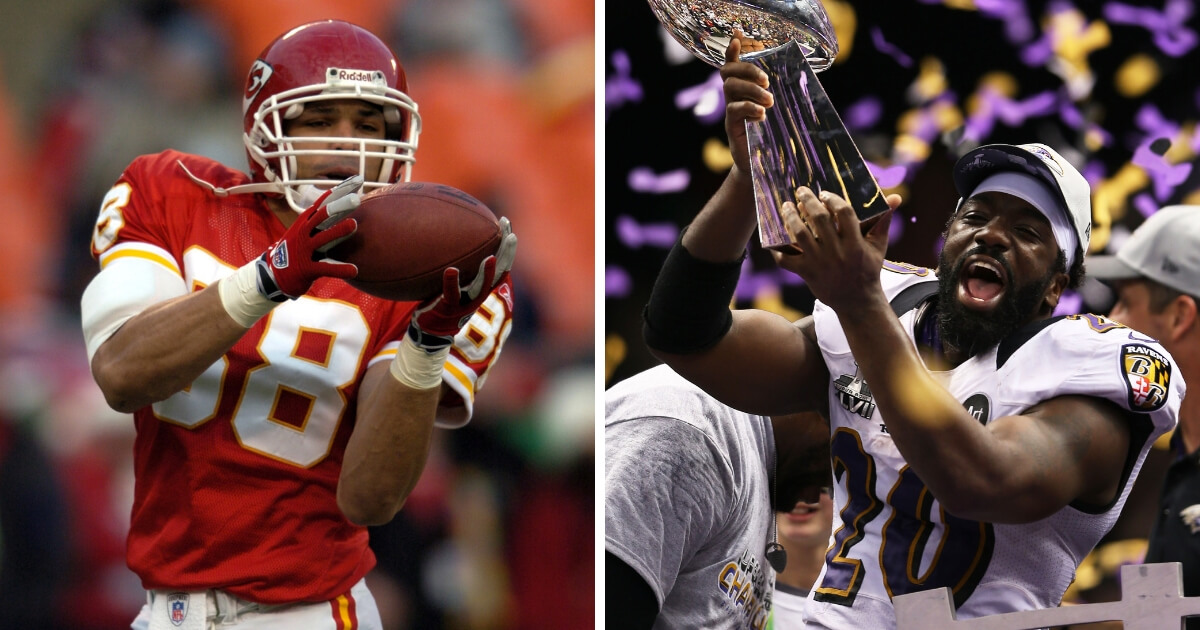 First-Year Football HOF Nominees Highlighted by Greatest-Ever Tight End and Defensive Stalwarts
Tony Gonzalez, Ed Reed, Champ Bailey and London Fletcher are first-year eligible players among the 102 modern-era nominees for the Class of 2019 in the Pro Football Hall of Fame.
Gonzalez, the most accomplished tight end in NFL history, retired in 2013 after 17 pro seasons in which he had 1,325 receptions, second to Jerry Rice on the career list.
A college basketball and football star at California, he was drafted 13th overall by the Chiefs in 1997 and played a dozen seasons in Kansas City. Gonzalez spent his final five seasons with Atlanta, finishing with 111 touchdown catches and 15,127 yards receiving. He made six All-Pro teams and was a member of the all-decade team for 2000-10.
Advertisement - story continues below
Reed and Bailey were standout defensive backs for stout units.
The 24th overall draft selection in 2002 out of the University of Miami, Reed played 11 seasons in Baltimore, three times leading the league in interceptions. Among his 64 career picks were returns for touchdowns of 106 and 107 yards. He made five All-Pro squads, was the 2004 Defensive Player of the Year, and joined Gonzalez on the all-decade team. Reed won a Super Bowl in the 2012 season.
Bailey began his career with Washington in 1999 as the seventh overall draft choice. He was traded to Denver in 2004, and led the NFL in interceptions with 10 in 2006. Bailey, who also dabbled on offense, had 52 career picks, made three All-Pro teams and, yes, also was on the all-decade team of 2000-2010.
Do you think Tony Gonzalez is the best tight end in NFL history?
Advertisement - story continues below
Fletcher became a starting linebacker in St. Louis in 1999 and won a Super Bowl. A rare undrafted player to be nominated for the Hall of Fame, he missed only one start from 1999 to 2013 with the Rams, Bills and Redskins. Fletcher made four Pro Bowls and finished his career with 1,380 tackles, 23 interceptions and 39 sacks.
Finalists from 2018 who are nominated again include running back Edgerrin James; wide receiver Isaac Bruce; offensive linemen Kevin Mawae, Steve Hutchinson, Alan Faneca and Tony Boselli; safety John Lynch; and cornerback Ty Law.
BREAKING: The Modern-Era nominees for the Class of 2019 has been released. The list is comprised of 102 players and coaches. Among the group announced are four first-year eligible players. #PFHOF19

Learn About the Nominees: https://t.co/fc0erpDwPM pic.twitter.com/1JVArkingF

— Pro Football Hall of Fame (@ProFootballHOF) September 13, 2018
The roster of nominees has 47 offensive players, 39 defensive players, five special teams players and 11 coaches. Among those coaches are Super Bowl champions Bill Cowher, Tom Flores, Mike Holmgren, Jimmy Johnson and Dick Vermeil.
The modern-era nominees will be reduced to 25 semifinalists in November and, from there, to 15 finalists in January.
A senior committee finalist, former Chiefs defensive back Johnny Robinson, and two finalists from the contributors category, Broncos owner Pat Bowlen and former Cowboys executive and current NFL consultant Gil Brandt, also have been nominated.
Advertisement - story continues below
Voting by the 48-member Hall of Fame panel will be held Feb. 2, the day before the Super Bowl, in Atlanta.
Inductions in the Canton, Ohio, shrine will be in early August.
Truth and Accuracy
We are committed to truth and accuracy in all of our journalism. Read our editorial standards.
Conversation