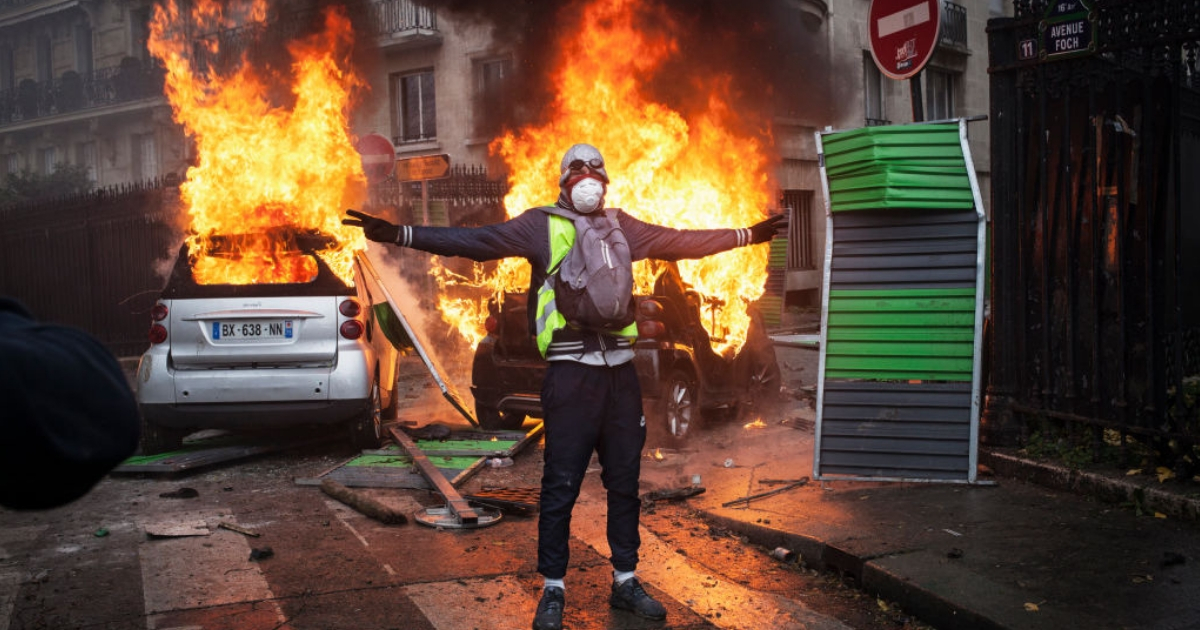 France Is Scrapping Global Warming Taxes the UN Thinks Should Be Doubled
The French government was forced to scrap plans to increases taxes on carbon dioxide emissions Tuesday after weeks of protests. But the planned carbon taxes were not nearly as high as what the United Nations calls for.
France's planned carbon tax on diesel would have come out to $37 per metric ton and $22 per ton, respectively. That would result in an increase of 33 cents per gallon for diesel and 17 cents per gallon for gasoline.
But that's roughly half what the U.N. says a carbon tax should be in order to limit global warming, environmental economist Richard Tol noted.
Advertisement - story continues below
Macron tried to impose a $37/tCO2 tax on diesel, $22/tCO2 on petrol.

IPCC says that the carbon tax should be $50-60/tCO2 to have an even chance of keeping the global mean surface air temperature below 2 degrees Celsius above pre-industrial. pic.twitter.com/zppYIWsMVB

— Richard Tol (@RichardTol) December 4, 2018
The U.N.'s recent emissions gap report suggests a carbon tax as high as $70 per ton would go further in reducing carbon dioxide emissions blamed for global warming.
"Studies show that a carbon tax of US $70/tCO2 in addition to existing measures could reduce emissions from just above 10 percent in some countries to more than 40 percent in other countries," the U.N. reported, adding that the taxes would also raise revenue.
Advertisement - story continues below
The French government announced it would delay implementing the carbon taxes by six months after weeks of protests that turned deadly.
At least three people were killed during the protests, more than 100 were injured and police arrested hundreds more.
Are you glad President Trump took the U.S. out of the Paris climate accord?
Tens of thousands of gilets jaunes, or "yellow vests," took to the streets of major French cities, including Paris to protest high carbon taxes, which would raise the price of fuel. Many protesters said they were already being crushed under rising energy and housing costs.
While Macron, for now, has backed away from increasing some carbon taxes, he's not likely to abandon his commitment to meeting the goals of the Paris climate accord.
The accord, which France is party to, calls for keeping future global warming below 2 degrees Celsius by 2100 through emissions cuts.
Advertisement - story continues below
However, the U.N. is currently pushing to keep future warming below 1.5 degrees by 2100 — a plan they say would require higher taxes.
The U.N.'s special climate report released in October found a carbon tax would need to be as high as $5,500 per ton by 2030 to limit future warming — that's equivalent to a $49 per gallon gas tax.
A carbon tax would need to rise to as high as $27,000 per ton by the end of the century to meet the 1.5-degree goal. That's the same as a $240 per gallon tax on gasoline in the year 2100.
If the French rose up against a carbon tax that's a fraction of what the U.N. calls for to meet its 1.5-degree goal, it's unlikely any government would ever enact a tax that high.
Advertisement - story continues below
Taxes already make up about 60 percent of the price of fuel in France. The average cost to fill up your tank in France runs just under $7 per gallon.
Content created by The Daily Caller News Foundation is available without charge to any eligible news publisher that can provide a large audience. For licensing opportunities of our original content, please contact licensing@dailycallernewsfoundation.org.
A version of this article appeared on The Daily Caller News Foundation website.
Conversation