Premium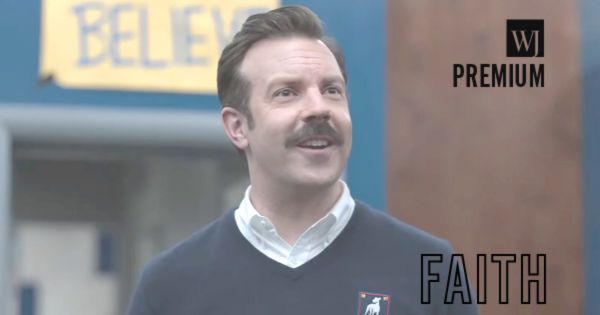 Premium
You'll Never See 'Ted Lasso' the Same After Reading This
At first, I loved "Ted Lasso." Finally, it seemed like conservatives had a premier TV show made with their values. But, as much as I enjoyed it, something about the show didn't quite sit right with me. I couldn't quite put my finger on what that something was.
By all accounts, it sure seemed like an amazing show. SNL alum Jason Sudeikis based the series on an old sketch of his featuring an American college football coach (the titular character) who, despite knowing absolutely nothing about soccer, accepts an offer to manage a European football club.
When he first arrives in the U.K., Lasso is viewed as an idiot by his team, the club's manager, the news media and pretty much everyone else. Over the course of the first season, however, the doubters soon begin to realize that the man they thought to be just another stupid American knows exactly what he's doing.
Advertisement - story continues below
As it turns out, Lasso is a masterful leader, and through the sheer power of optimism and leadership, he helps his team find success despite knowing nothing about the sport he's coaching.
At first glance, Lasso seems to embody the very qualities most conservatives and Christians aspire to.
He's humble yet competent, optimistic yet wise and slow to anger yet unafraid to stand up to bullies. In an especially Christian way, Lasso is also able to forgive even the most personal transgressions. One example of this in the show nearly brought me to tears.
The show received rave reviews from both mainstream liberal and Christian/conservative critics alike.
Advertisement - story continues below
But still, I knew something wasn't right. Then, I watched Andrew Klavan's review of the show and finally, everything made sense.
Do you watch "Ted Lasso"?
There is perhaps no man alive better equipped to dissect the authenticity of a supposedly conservative show than Klavan.
An accomplished author and screenwriter turned conservative political commentator and devout Christian, Klavan knows not only what makes a good story tick, but also what makes a good Christian conservative tick.
In his view, the character of Ted Lasso is, at his core, utterly dishonest.
Advertisement - story continues below
"They are trying to portray this all-American optimistic character but they don't know this guy. And one thing they don't know about him is, for instance, that he would believe in God," Klavan said.
"That is why people are like that. That is why people are optimistic. That is where that American spirit comes from and there's almost no mention of God in the show and that's just dishonest."
"I'm not saying they have to support God. I'm not saying they have to believe in God. I'm just saying it's a dishonest portrayal of a guy as a work of art," Klavan said.
It's not just that the writers didn't hone in on Lasso's faith. They actually take the time in the show to mock the very idea that Lasso would be a Christian.
Advertisement - story continues below
At various points in the show, Lasso refers to God as a woman. During a Christmas episode, Lasso refers to the Holiday as "Santa's birthday."
At every chance they get, the show's creators — no doubt a room full of hardcore progressives — take the time to mock the deity of Christ.
It seems that the minds behind "Ted Lasso" want to take a Christian archetype, strip him of his faith and then pretend that he's one of their own.
They want Christianity without Christ.
Advertisement - story continues below
But they didn't just stop at removing Christ from the picture, they also used Lasso, this obviously Christian man, to promote Hollywood's ultra-liberal values. They wanted to pretend as if a truly good moral man would act as they do.
There was one storyline from the show that served as a perfect example of this.
As the first season develops, it quickly becomes clear that Lasso is estranged from his wife who, when he made the move to the U.K., remained stateside with the couple's son.
It turns out that, over the years they've been together, Lasso's wife has grown tired of his constant optimism to the point that she wanted a divorce.
Advertisement - story continues below
But, being that relentless optimist, however, Lasso refuses to sign the divorce papers. He remains hard-set on making things work.
Eventually, however, Lasso comes to the realization that, if he truly loves her and wants her to be happy, he must let his wife go by signing the divorce papers.
Of course, if there were a man with Lasso's values in real life, he would never dare do such a thing, especially considering what a divorce would do to his son.
"[Those] are Hollywood values being imposed on this guy because that little boy is being screwed big time. For her happiness, he is destroying that little boy's life," Klavan continued.
Advertisement - story continues below
"Why? Because everybody in Hollywood is divorced, they all think the kids are going to be all right. They don't know any better."
In an attempt to get over the loss, Lasso then engages in a one-night stand and the audience is meant to applaud him for doing so.
Quoting Christian author Mark Sayers, blogger Mike Frost perhaps summed up the show's agenda best.
"Ted Lasso offers the promise of a Christless kind of Christianity — a world of repaired relationships, [multiethnic] banquets, and renewed souls — with no reference to Christ himself. And in Sayers' mind that makes it part of the insidious push in Western culture to use soft power to eat away at our commitments," Frost wrote.
Advertisement - story continues below
In real life, people don't become bright-eyed optimists by pursuing "happiness" like Lasso.
True optimism and winsomeness are qualities earned through faith and the commitments and sacrifices that follow that faith, such as commitment to marriage and sacrifices like forgoing the pleasures of casual sex.
Don't let the Hollywood writers behind "Ted Lasso" fool you. Lasso isn't a Christian, but rather a sad attempt at co-opting one.
Conversation