News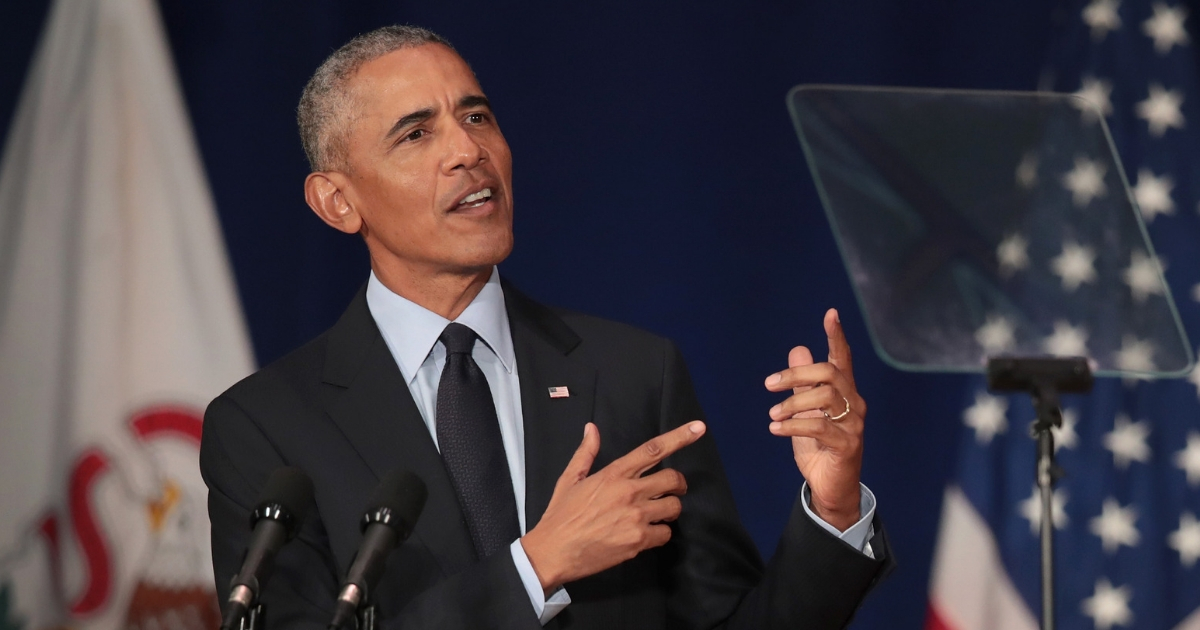 Obama Hits Trump for Attacking Media, but His Administration Spied on Them
Former President Barack Obama chastised President Donald Trump in a speech on Friday for supposedly threatening the freedom of the press. However, the Obama Department of Justice spied on members of the media on multiple occasions, and his administration sought to discredit Fox News, derisively calling it "an arm of the Republican Party" and not a news outlet at all.
In remarks given at the University of Illinois Urbana-Champaign, Obama said, "It shouldn't be Democratic or Republican to say that we don't threaten the freedom of the press because they say things or publish stories we don't like."
He added, "I complained plenty about Fox News, but you never heard me threaten to shut them down, or call them 'enemies of the people.'"
Advertisement - story continues below
The Washington Post reported that the Obama Justice Department, under the leadership of Attorney General Eric Holder, targeted Fox News Washington correspondent James Rosen, labeling him a criminal co-conspirator in an probe concerning leaked classified information to the reporter about the administration's dealings with North Korea.
The FBI tracked Rosen's movements to and from the State Department, and the timings of his calls with a government official were traced, according to 2010 court documents.
A judge approved an FBI search warrant to seize content of Rosen's emails.
Advertisement - story continues below
"It is downright chilling," Fox News executive Michael Clemente told The Post. "We will unequivocally defend [Rosen's] right to operate as a member of what up until now has always been a free press."
Last year, Rosen reflected on his experience, saying in an interview on WPHT-AM in Philadelphia that the Obama administration named him an "enemy of the state."
Do you think the Obama administration was more hostile toward the press than Trump is?
"Literally, in writing, (the Obama DOJ) declared me an enemy of the state by designating me as a criminal co-conspirator in an alleged violation of the Espionage Act," Rosen said.
"That was done in a secret FBI search warrant application submitted to and accepted and approved by a federal judge," Rosen recounted. "Attorney General Holder later acknowledged that he personally signed off on that document and he later identified it as the greatest regret of his tenure.
"Nothing that we've seen so far from the Trump administration, at least yet, rises to that level of seriousness or nature in terms of any kind of attack or assault on the press."
Advertisement - story continues below
Additionally, the Obama DOJ targeted The Associated Press in 2012, obtaining phone records of more than 20 telephone lines of its offices and journalists, AP reported.
In a letter to Holder, Gary Pruitt, president and chief executive of AP, called the seizure a "massive and unprecedented intrusion."
"There can be no possible justification for such an overbroad collection of the telephone communications of The Associated Press and its reporters," he wrote.
Pruitt continued, "These records potentially reveal communications with confidential sources across all of the news gathering activities undertaken by the AP during a two-month period, provide a road map to AP's news gathering operations and disclose information about AP's activities and operations that the government has no conceivable right to know."
Advertisement - story continues below
When questioned by NPR about the targeting of AP, Holder could not recall how many times he signed off on reporters records being seized.
"I'm not sure how many of those cases that I have actually signed off on," Holder said. "I take them very seriously. I know that I have refused to sign a few [and] pushed a few back for modifications."
The Obama administration not only spied on news outlets, it sought to discredit the entire news outlet of Fox News.
"The reality of it is that Fox News often operates almost as either the research arm or the communications arm of the Republican Party," Anita Dunn, then-White House communications director, said on CNN's "Reliable Sources" in 2009.
Advertisement - story continues below
"If media is operating basically as a talk radio format, then that's one thing, and if it's operating as a news outlet, then that's another," Obama himself said of Fox News.
That same year, Obama White House chief of staff Rahm Emmanuel and aide David Axelrod went on Sunday shows proclaiming that Fox "isn't news" and should be ignored by other media, The Atlantic reported.
The White House did not just engage in rhetoric against FNC, it also took action.
Advertisement - story continues below
On Sept. 20, 2009, "the president went on every Sunday news show — except Chris Wallace's show on FOX," Jeff Greenfield of CBS News reported. "And … the Treasury Department tried to exclude FOX News from pool coverage of interviews with a key official. It backed down after strong protests from the press.
Conversation