Sports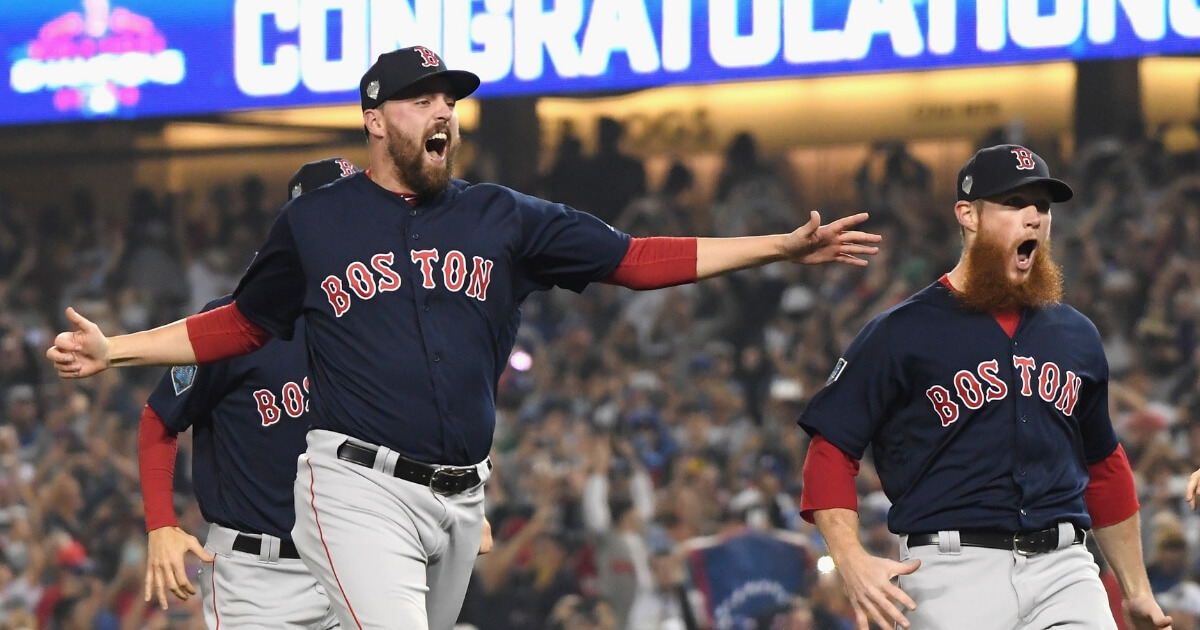 Red Sox Pitcher Gives Definitive Answer on Visiting the White House
One of the signs that politics has invaded every corner of life these days has been the controversy over whether championship sports teams accept or reject the traditional invitation to visit the White House for a meet-and-greet with the president.
The practice of skipping the trip isn't new; Boston Celtics legend Larry Bird passed on visiting Ronald Reagan in 1984, saying, "If the president wants to see me, he knows where to find me." But announcing the decision as a political protest is much more recent.
In 2012, Boston Bruins goalie Tim Thomas refused to meet with President Barack Obama, saying in a statement: "I believe the Federal government has grown out of control, threatening the Rights, Liberties, and Property of the People. … This is in direct opposition to the Constitution and the Founding Fathers vision for the Federal government. Because I believe this, today I exercised my right as a Free Citizen, and did not visit the White House."
Advertisement - story continues below
He was widely vilified for the move both in Boston and in the national media.
Since President Donald Trump was elected in 2016, the pendulum has, predictably, swung the other way. Instead of being reviled for boycotting the White House, players and teams are celebrated for it in the media. Among those who have been lauded for rejecting a trip to the Trump White House are NBA stars LeBron James, Steph Curry and Kevin Durant.
Now it's the World Series champion Boston Red Sox's turn to make that decision.
Do you think the Red Sox should make the traditional White House visit?
Advertisement - story continues below
Manager Alex Cora was asked about it during his postgame news conference after Boston won Game 5 on Sunday, and he said, "We'll talk about it later on."
There is one player on his team who seems to be willing to go meet the president by himself if he has to.
Heath Hembree, Red Sox reliever, told TMZ Sports on Sunday, "Hell yeah! I f— with Trump!"
In case you didn't know, that's a modern idiom for "really like," showing the depth of Hembree's enthusiasm.
WARNING: Video contains graphic language.
Advertisement - story continues below
TMZ asked Hembree what he likes about Trump and the pitcher replied, "Everything!"
MLB Commissioner Rob Manfred has been firm in saying the winning team should, out of patriotic duty to a country where baseball and apple pie are its two most recognizable symbols in folklore, pay a visit to the White House.
The 2016 Chicago Cubs and 2017 Houston Astros both visited Trump after winning the World Series.
Advertisement - story continues below
Whether the Red Sox, hailing from liberal Massachusetts, will make the same decision remains to be seen.
Hembree, who is from Spartanburg, South Carolina, made 67 appearances during the season, suffering three blown saves against 20 holds and finding 43 of his appearances in non-save situations. He had a regular-season ERA of 4.20 and gave up 10 home runs in 60 innings.
The 29-year-old right-hander was better in the postseason, however, surrendering no hits or runs in four playoff appearances.
Conversation