Op-Ed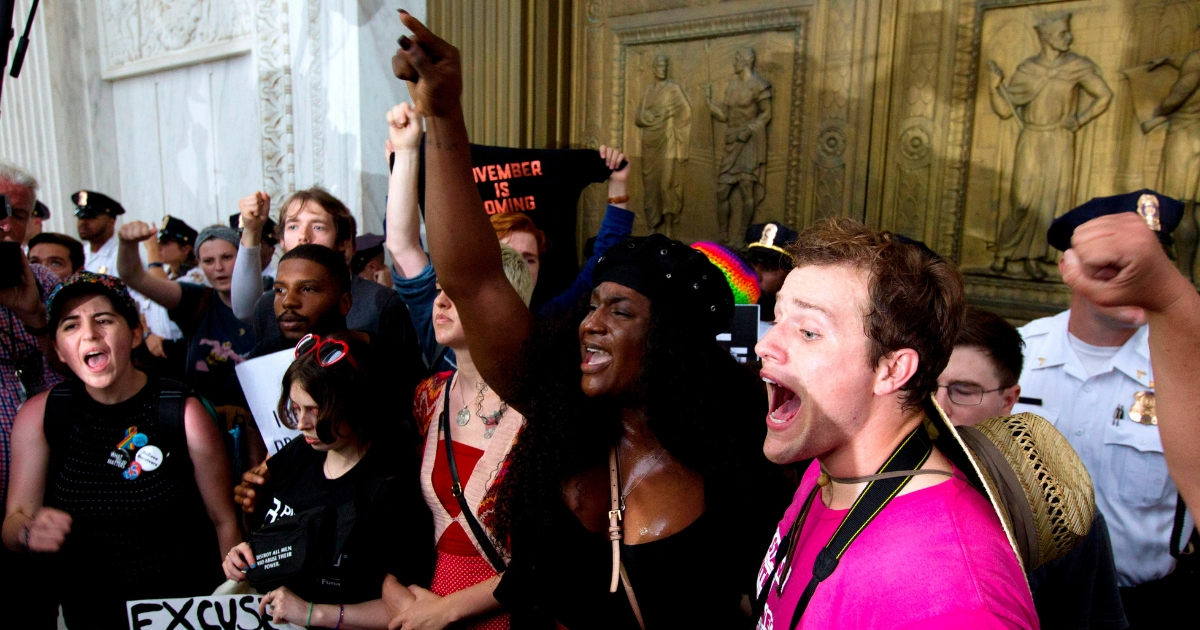 The New Face of the Democratic Party: Mob Rule
Hillary Clinton was back on the airwaves again Tuesday doing an interview with CNN, reminding the country of two important things:
• Why she lost the presidential election in 2016.
• Democrats are now a party of insolence and tyranny.
Advertisement - story continues below
"You cannot be civil with a political party that wants to destroy what you stand for, what you care about," Clinton said. "That's why I believe, if we are fortunate enough to win back the House and/or the Senate, that's when civility can start again."
Translation: We can only be civil when we're getting our way.
Hillary Clinton: "You cannot be civil with a political party that wants to destroy what you stand for" https://t.co/8QI5BoEN6t pic.twitter.com/P04am7WREQ

— CNN Politics (@CNNPolitics) October 9, 2018
Fox News' Tucker Carlson summed up the real platform of the new Democratic Party, a scorched-earth ideology where "only a country divided into warring tribes can be ruled effectively. 'If we can't control it, let's burn it down.' That's the message they've internalized."
Advertisement - story continues below
And make no mistake, civility is now a one-way street in American politics. One would be hard-pressed to find conservatives blocking streets, beating people senseless or intimidating and harassing political opposition. The same cannot be said for the today's Democrats.
There was no call for civility as California Rep. Maxine Waters urged her supporters to harass conservatives, saying they are not welcome anymore, anywhere. There was no civility (but incredible irony) when Yale Law School professors canceled classes to allow students to protest against due process for then-Supreme Court nominee Brett Kavanaugh. And there was no civility when Democrats fire-bombed a GOP office in Wyoming.
Maya Angelou once said, "When someone shows you who they are, believe them the first time." Well, America now has countless examples of vicious behavior by Democrats, launching rage-filled attacks against their opposition in seething, uncontrolled anger for a president who has been delivering success in spite of immense opposition.
Since taking office, President Donald Trump and the GOP-controlled Congress have had incredible policy successes: rolling back numerous regulations, cutting taxes, creating millions of jobs the previous administration said "aren't coming back," and exiting the Iran deal. In fact, the Washington Examiner listed 81 accomplishments in the administration's first year, which included the repeal of 11 legacy items of the Obama administration.
Like him or not, Trump's dismantling of the Obama legacy has resulted in policies that have had a positive, measurable impact on the American people — regardless of party affiliation.
Advertisement - story continues below
Democrats, on a daily basis, voice disdain for all of these wins.
House Minority Leader Nancy Pelosi calls money flowing back to working families "crumbs." Sen. Cory Booker says a sensible immigration policy is racist. Congressional candidate Alexandria Ocasio-Cortez and Sen. Bernie Sanders want tax rates so high they won't even provide a specific number for the highest tax bracket they propose.
So, when Clinton says "destroy what you stand for," she is acknowledging that Democrats in 2018 don't stand for much worth defending.
The left has now embraced extreme policy positions. The Daily Wire reported in August that 57 percent of Democrats have a positive view of socialism. Democrat candidates for the 2018 midterms are actively campaigning on open borders and abolishing the U.S. Immigration and Customs Enforcement agency, and (again) since the confirmation of Justice Brett Kavanaugh to the Supreme Court, to end the Electoral College.
Advertisement - story continues below
Republicans, by contrast, are running on a strong economy, a secure border, lower taxes, record low unemployment and fewer regulations. In their endorsement of Kavanaugh, Republicans also supported the importance of upholding the U.S. Constitution.
In the past, both political parties agreed on core American principles, like the presumption of innocence, free speech and constitutional protections. But there are now glaring differences between the two parties on the fundamentals of what America is. And there is staunch disagreement on how to solve our problems.
As demonstrated in policies on college campuses and in patronizing lectures of Democrat politicians, it seems that for the left, civility is simply transactional. It's a desperate condition resulting from its inability to create policy platforms that resonate with core American values — platforms that only play well publicly when they're packaged up as something they're not (like calling the Affordable Care Act "affordable").
It is increasingly difficult to remain dispassionate, in the face of unrelenting attacks from leftist rage mobs that refuse to extend the courtesy of civility. But this is what the Democratic Party has become — a collective that not only will devolve into child-like rudeness when it doesn't have power, but will malign and destroy anyone who gets in its way to compel adherence to its beliefs when it does.
Advertisement - story continues below
We see it with those who don't use proper gender pronouns. We see it with those who support the Second Amendment. We see it with conservative accounts being banned on social media. And we saw it during the confirmation hearings of Justice Kavanaugh and afterward, as hordes of screaming leftists literally clawed at the massive doors of the Supreme Court in protest.
Militant mob rule is the new face of the Democratic Party. And it's a really bad look.
The views expressed in this opinion article are those of their author and are not necessarily either shared or endorsed by the owners of this website. If you are interested in contributing an Op-Ed to The Western Journal, you can learn about our submission guidelines and process here.
Conversation