News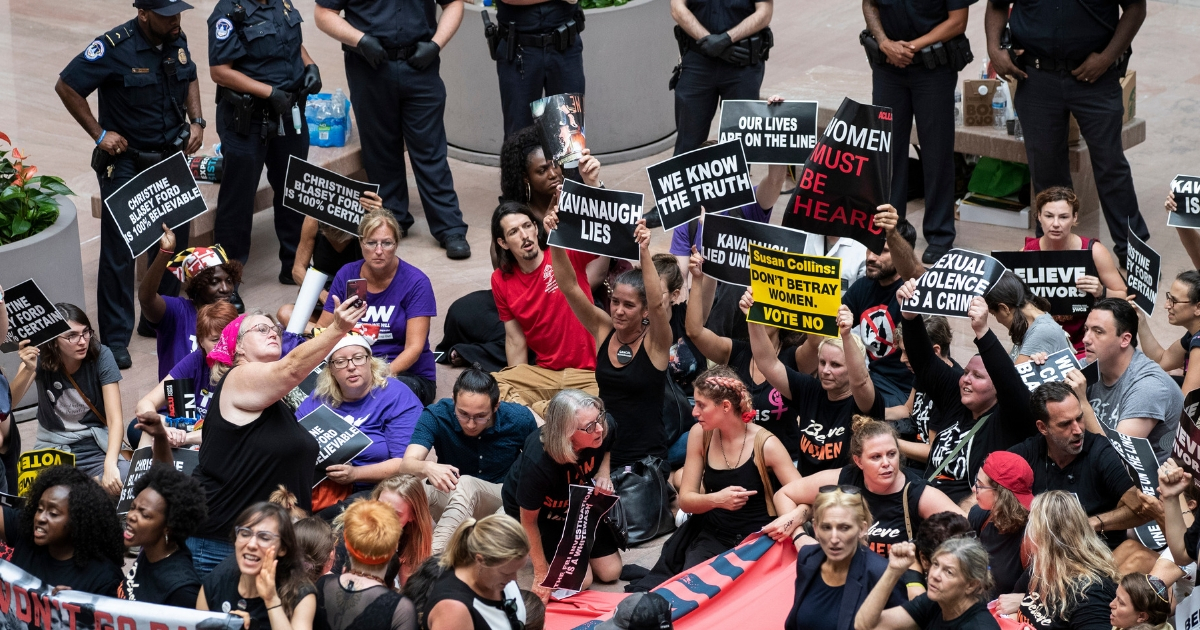 'Rogue' Ex-Professor at Taxpayer-Funded College Tried To Ship Kids to Kavanaugh Protests
A state college president went into damage control mode this week after a professor offered students credit for protesting the nomination of Judge Brett Kavanaugh to the Supreme Court.
University of Southern Maine President Glenn Cummings said the college never sanctioned the trip, and faulted Susan Feiner, a former professor of economics and women and gender studies, who retired July 1.
The college offers short-term courses called "pop-up" courses. In the one Feiner hoped to run, students were invited to join Maine residents going to protest against Kavanaugh, according to the Portland Press Herald.
Advertisement - story continues below
"Dr. Feiner acted in a very rogue manner. Her behavior was inappropriate. It was unacceptable," Cummings said.
Cummings said that when university officials heard about the course, they killed it. Students, like anybody else, would have been free to make the trip, but they would not receive college credit for it.
"This pop-up course was hastily arranged in the past 24 hours, without the knowledge of the Provost or myself. It was not appropriately reviewed nor went through proper channels," Cummings said in a statement. "As soon as the Provost and I were apprised of the course, we immediately pulled the one-credit offering. We also made sure that no USM monies were being used for the trip."
Advertisement - story continues below
"University policy makes it absolutely clear that our public, taxpayer-funded institutions must be non-partisan in terms of political activity and institutionally impartial in all political, religious, and social matters that are unrelated to our universities' core mission of education, research and public service," he added.
A social media invitation to take part in the course mentioned the topic of being arrested. University of Main Chancellor James Page seized upon that in his statement.
Are you sick of liberal academics pushing their ideology?
"The use of institutional resources to advance a partisan agenda violates Board policies established to ensure Maine's public universities remain non-partisan and politically neutral," he said. "Inviting arrest for college credit goes much further, violating the trust our students, their families, and Maine taxpayers have placed in our universities and could result in serious professional consequences."
Feiner said she works at the college's Frances Perkins Institute and is funded by a grant. She did not identify the source of the grant.
She said students of all views were welcome on the protest bus.
Advertisement - story continues below
"We're not inviting them to protest," Feiner said. "There was never a dime's worth of university or taxpayer money involved."
Feiner said the college was making too much of the issue.
"What the message is," Feiner said, according to WCSH, "is that you can be an engaged citizen except when you're standing up for women's rights."
The retired professor also said the college changed its tune once it came under fire.
Advertisement - story continues below
"Everybody at the university signed off on this grant and been really happy about it," Feiner said, according to WGME. Then came public outcry.
"The next thing I know, the president and the chancellor are flipping out because they think taxpayer money is supporting partisan activity, and that couldn't be further from the truth," Feiner said.
"It's terrible to deny students such an incredible learning opportunity. Social justice is not a partisan issue. There is nothing seditious about students taking a bus to Washington, D.C., in a historic moment," she said. "Their senator is in the epicenter of it."
The course came to the public's attention after the Maine Republican Party posted about it on its Facebook page and encouraged people to call the college in protest.
Conversation