News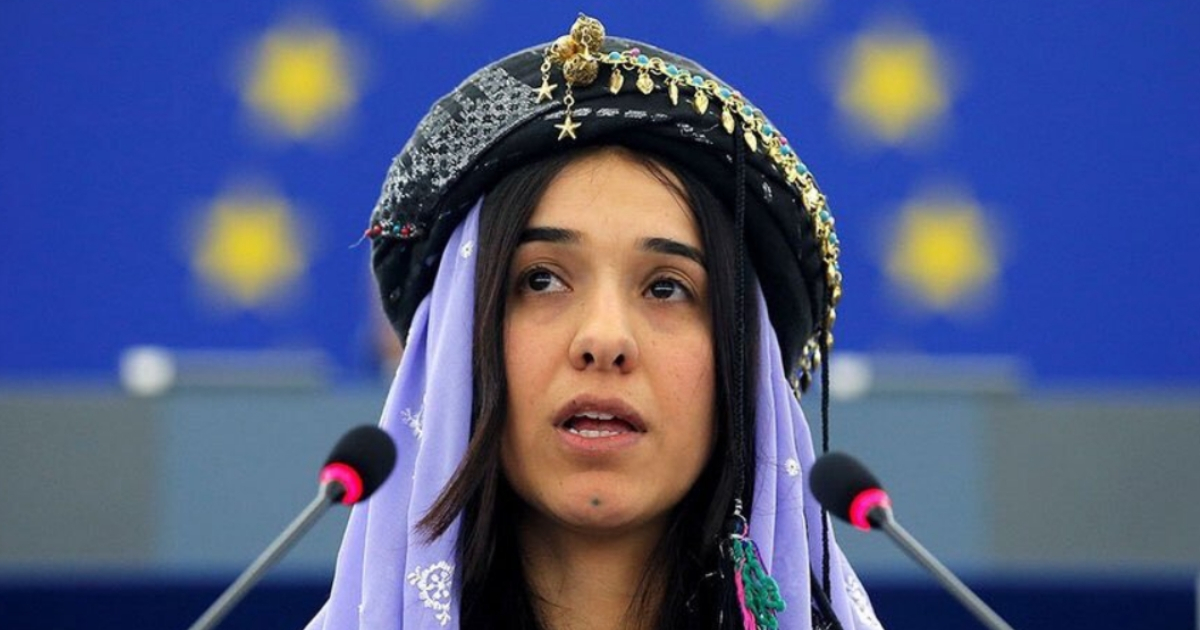 Former ISIS Sex Slave Receives 2018 Nobel Peace Prize
A former ISIS sex slave will share the 2018 Nobel Peace Prize for her "efforts to end the use of sexual violence as a weapon of war and armed conflict," the Nobel committee announced Friday.
Nadia Murad of Iraq will share the award with physician Denis Mukwege of the Democratic Republic of Congo.
"Each of them in their own way has helped to give greater visibility to war-time sexual violence, so that the perpetrators can be held accountable for their actions," the Nobel committee said in a news release published by Reuters.
Advertisement - story continues below
Murad became a UN goodwill ambassador in 2016 when she was just 23 years old. She has spoken about being held as an ISIS sex slave for months to countless people to spread awareness of human trafficking.
A member of the Kurdish religious minority the Yazidis, Murad was kidnapped by ISIS militants after they executed her mother and brothers during an attack on her village on Aug. 3, 2014.
"Nearly 6,500 women and children from the Yazidi were abducted and about 5,000 people from the community were killed during that day," she said in 2017 according to CNN. "For eight months, they separated us from our mothers and our sisters and our brothers, and some of them were killed and others disappeared."
Advertisement - story continues below
Murad is the second-youngest winner of the Nobel Peace Prize after Pakistani Malala Yousafzai, who was 17 when she received the honor.
She congratulated Murad and Mukwege on Twitter Friday after the news broke.
"Congratulations to Nadia Murad and Denis Mukwege! Their work saves lives and helps women speak out about sexual violence," Yousafzai wrote.
Congratulations to @NadiaMuradBasee and @DenisMukwege! Their work saves lives and helps women speak out about sexual violence. #NobelPeacePrize https://t.co/2AvNSwleR2

— Malala (@Malala) October 5, 2018
Mukwege is a gynecologist who treats women abused "in the context of a long-lasting civil war that has cost the lives of more than six million Congolese," according to the Nobel news release.
Advertisement - story continues below
"The physician Denis Mukwege has spent large parts of his adult life helping the victims of sexual violence in the Democratic Republic of Congo," the release continued. "Since the Panzi Hospital was established in Bukavu in 2008, Dr. Mukwege and his staff have treated thousands of patients who have fallen victim to such assaults."
The Nobel Peace Prize is the fourth Nobel prize to be announced this week. The Nobel laureates will receive their awards at a Dec. 10 ceremony.
A version of this article appeared on The Daily Caller News Foundation website.
Conversation
The Western Journal is pleased to bring back comments to our articles! Due to threatened de-monetization by Big Tech, we had temporarily removed comments, but we have now implemented a solution to bring back the conversation that Big Tech doesn't want you to have. If you have any problems using the new commenting platform, please contact customer support at
commenting-help@insticator.com
. Welcome back!