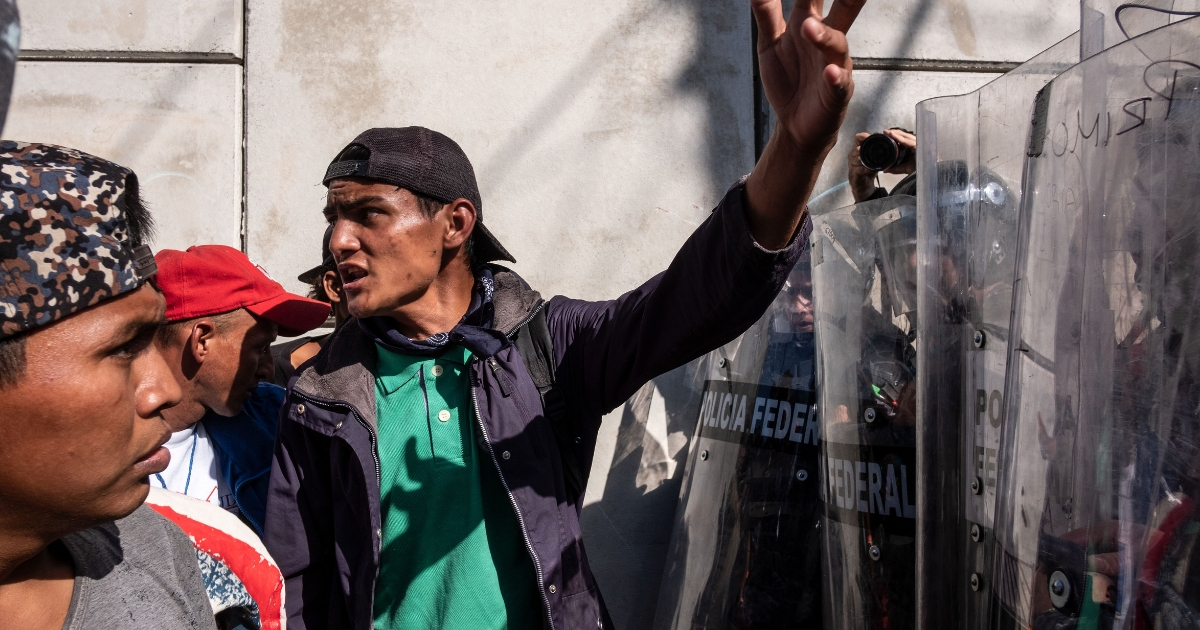 NBC Spins Violent Caravan as LGBT Rights Heroes
The migrant caravan bringing disruption and violence to the Southern Border is being portrayed in some corners of the media as an LGBTQ love story.
NBC recently highlighted a group of migrants involved in a mass wedding in a story headlined,"'Dream come true': Migrant caravan LGBTQ couples celebrate mass wedding."
"This is really a dream come true, because you don't see this in our home countries and this is something that we've always wanted to do, and today we had the opportunity to do so. I'm very happy," said Guatemalan Pedro Nehemias Pastor who married Honduran Erick Alexander Durán.
Advertisement - story continues below
"This is an act of justice," maintained Hugo Córdoba, a Unitarian Universalist officiant who married some of the couples. "The dream of marrying is an illusion for most of them. We are helping them make this a reality."
Central American LGBTQ migrants escaped violence and discrimination and married in Mexico where gay marriage is legal. pic.twitter.com/KLFvAfViTn pic.twitter.com/fvI9u7bC95

— UkFour (@UkFour) November 24, 2018
Although NBC did not report it, the Associated Press noted that during the march north, the violence within the caravan often emerged with LGBTQ marchers as a target.
Advertisement - story continues below
"In my country there is violence, a lack of work and opportunities," said Loly, who only gave AP her first name. "In the caravan there is also violence — against the LGBTQ community."
Male marchers were the worst, said Lady Perez, 23, of Honduras.
Are you tired of the liberal sympathy ploy?
"They have denigrated us. Supposedly you're emigrating from your country because of the violence, the discrimination, the homophobia, and it turns out that in the very caravan you face this kind of violence," she said.
To cope with the violence, about 80 openly LGBTQ migrants split off from the caravan and reached Tijuana ahead of the rest.
"Whenever we arrived at a stopping point the LGBT community was the last to be taken into account in every way. So our goal was to change that and say, 'This time we are going to be first,'" Honduran migrant Cesar Mejia said, according to NPR.
Advertisement - story continues below
Mejia insisted that the LGBTQ splinter group would seek asylum in conformity with U.S. laws, citing persecution against them as a reason to be granted asylum.
JW's on-the-ground reporting indicated the migrant caravan marching north is an "elaborately planned" movement benefiting human smugglers, violent gang members, & other criminal elements moving via Guatemala, per government sources in the capital city.https://t.co/YjfVX7BiJq

— Judicial Watch ? (@JudicialWatch) November 26, 2018
On Sunday, migrants clashed with U.S. Border Patrol agents after migrants tried to force their way into the U.S. There are currently at least 5,000 migrants in Tijuana hoping to enter the U.S., with more on the way.
Advertisement - story continues below
Mexico has sent the migrants a warning. Mexico's National Human Rights Commission said it "reiterates that members of the caravans that cross our country should respect Mexican laws and not engage in actions that affect the communities they pass through."
"It is important to note that the fact the Mexican government protects their rights does not imply a free pass to break the law," the group said, according to The Independent.
Conversation