Premium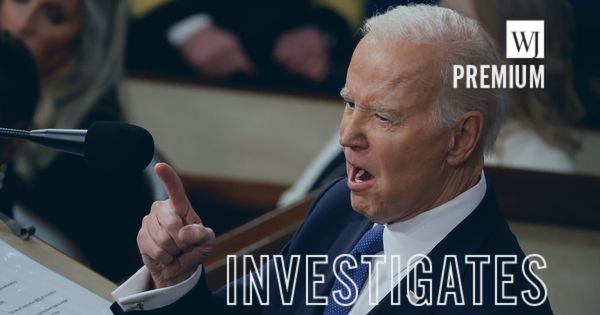 Premium
Biden's Grand Plan from SOTU Is Going to Backfire and Your Wallet Is Going to Pay the Price
As President Joe Biden's State of the Union address unfolded Tuesday, a theme emerged that can perhaps be best summarized as the following: You (the American people) pay too much while corporations and billionaires pay too little.
The solution to this problem, according to Biden, is the heavy hand of government regulation and interference. Among the solutions he touted Tuesday night, some of which have already been passed into law, were the following: outlawing "junk" fees such as overdraft charges, late fees and service fees; forcing airlines to fully refund canceled airfares; heavy increases in taxation and tax enforcement on corporations; and price caps on prescription drugs.
Setting aside what's "fair" and "unfair," the question is, do Biden's proposed solutions provide the intended effect?
Advertisement - story continues below
Will the price of goods and services such as gas and airfares go down?
Will large corporations finally begin to share more of their income?
According to a thorough analysis and the opinion of well-respected policy experts, every one of these proposed solutions will have the reverse effect.
Instead of tamping down prices, the president's policies will force Americans to reach even deeper into their pockets to pay for day-to-day necessities.
Advertisement - story continues below
Say Sayonara to the Cure for Cancer and Hello to Higher Premiums
Everyone loves free stuff.
Do you trust Biden's plan?
By that same token, everyone loves discounted products, especially if they need those products in order to stay healthy and alive.
But while Biden's proposal to lower the price of drugs (which already has been passed into law via the Inflation Reduction Act last August) sounds enticing, it carries numerous unforeseen costs.
Thomas Sowell-endorsed health care policy expert Sally C. Pipes told The Western Journal via email that the law's health care provisions are a "[d]isaster for patients and expensive."
Advertisement - story continues below
In a piece published by Forbes Wednesday, Pipes detailed the incredibly high cost of such a policy: no new medical innovation.
Biden is correct in saying pharmaceutical companies have made incredible profits in recent years. In 2021, Novartis, Pfizer and Johnson & Johnson made a whopping $24 billion, $22 billion and $21 billion, respectively.
However, those profits aren't just arbitrarily put into the pockets of company owners and executives.
Much of that income is needed to pay for the hefty price of research and development.
Advertisement - story continues below
According to Pipes, the cost of bringing a new drug to market can potentially rise to $2.8 billion, and more than 90 percent of drugs fail during the clinical trial phase.
Given the high cost and high risk, all of a sudden those profits don't seem so monumental.
Since the Inflation Reduction Act was passed and its prescription drug price controls implemented, companies have begun scaling back research and development into new cures and treatments for cancer. Multiple reports show pharmaceutical companies such as Novartis and Alnylam are scrapping various R&D projects, Pipes reported.
"Investors are willing to gamble on research that has a roughly 10% success rate because the potential payoff from developing an effective therapy can be huge. The IRA is intent on taking those paydays away. And in so doing, it's virtually guaranteeing that patients now, and in the future, will have access to fewer innovative, effective, and perhaps even curative therapies," Pipes wrote.
Advertisement - story continues below
"Fewer effective drugs will make the Cancer Moonshot's goal of halving the cancer death rate over the next 25 years a lot harder to achieve — if not impossible."
Furthermore, while the price of some drugs may be reduced for Americans, the cost of their insurance will go up as a result of the president's proposed regulations, according to Heritage Foundation expert Edmund Haislmaier.
The price fixing won't make up for this increase in premiums.
According to Pipes, thanks to the plan's limited foresight, not only will "the vast majority of Americans [not] notice any difference at the pharmacy counter," but the plan may also cause prescription "prices to rise further in the years ahead."
Advertisement - story continues below
Instead of 'Junk Fees' from Time to Time, Tickets Will Cost More All the Time
Most Americans can agree: It's never fun to be hit with a surprise fee.
Because of this, Biden's proposal to ban "junk" fees altogether is no doubt an enticing one.
However, much like the Inflation Reduction Act's health care proposals, Biden's proposed ban on "junk" fees merely creates new costs for everyday consumers.
Advertisement - story continues below
Many such charges, including late fees and penalties for switching providers, help mitigate risk and cost for certain businesses.
These companies can't predict whether such fees will be necessary and often introduce them only once money has been lost.
Nevertheless, Biden suggested such practices were malicious and vowed to ban them during his address Tuesday.
"My administration is also taking on 'junk' fees, those hidden surcharges too many companies use to make you pay more. For example, we're making airlines show you the full ticket price upfront and refund your money if your flight is canceled or delayed," the president said.
Advertisement - story continues below
"Junk fees may not matter to the very wealthy, but they matter to most other folks in homes like the one I grew up in, like many of you did. They add up to hundreds of dollars a month. They make it harder for you to pay your bills or afford that family trip. I know how unfair it feels when a company overcharges you and gets away with it.
"Not anymore. We've written a bill to stop it all. It's called the Junk Fee Prevention Act."
If implemented, Biden's proposal may very well eliminate some charges for some people.
Advertisement - story continues below
However, as a result, all prices in these industries could go up for all people.
If businesses can't recoup these costs after the fact, they'll simply do so upfront.
In a statement sent to The Western Journal, the trade association Airlines for America revealed that would certainly be true for airfares. If airlines are forced to reimburse the cost of canceled or delayed flights, they'll simply charge more for those flights instead.
"The White House proposals are short-sighted and would inevitably drive-up costs and reduce choices for the consumer. The federal government should be focused on 21st century policies and procedures that drive our nation's aviation system forward, rather than making efforts that threaten to reduce access and affordability for consumers," the statement read.
Advertisement - story continues below
In that same spirit, if credit card companies are forced to abandon all fees, those costs also will be passed on to consumers.
In a letter sent to the Biden administration in late January, lenders objected to a ban on "junk fees," noting such a move would result in higher credit costs and a more limited availability of credit.
Punishing Investment Means Fewer Jobs, Lower Salaries and Crippled 401(k)s
Biden made a point to call out greedy corporations for supposedly failing to pull their own weight.
Advertisement - story continues below
Specifically, the president targeted "Big Oil."
"You may have noticed that Big Oil just reported its profits, record profits," the president said. "Last year, they made $200 billion in the midst of a global energy crisis. I think it's outrageous. Why?
"They invested too little of that profit to increase domestic production, and when I talk to a couple of them, they say, 'We're afraid you're going to shut down all the oil wells, all the oil refineries anyway so why should we invest in them?' I said, 'We're going to need oil for at least another decade.' …
"Production. If they had in fact invested in the production it would keep gas prices down. Instead, they used those record profits to buy back their own stock, rewarding their CEOs and shareholders."
Advertisement - story continues below
In order to account for this problem, Biden proposed a quadrupling of the tax on corporate buybacks, which currently sits at 1 percent.
In addition, the president promised increases in corporate taxes and the enforcement of those taxes.
As appears to be the case with many of his economic policies, these costs will be passed on to consumers, whether it be through higher prices, reduced wages or the hiring of fewer employees, according to Grover Norquist, the president of Americans for Tax Reform.
"Roughly 70 percent of the corporate income tax is paid by workers in lower wages. So, when somebody says, 'I'm going to raise $100 billion from companies,' that's $70 billion coming out of the pockets of workers, who will either have lower wages than they otherwise would or not have a job at all," Norquist told The Western Journal.
Advertisement - story continues below
He finds Biden's proposed corporate buyback tax of 4 percent to be similarly counterproductive.
When corporations have money to invest, Norquist said, they have two options: invest in themselves or someone else.
If they invest in themselves, that's a gamble on their own success, which, if realized, could result in job creation, increased wages and overall economic growth.
By punishing those companies, Norquist said, Biden is punishing the economy at large.
Advertisement - story continues below
Perhaps even worse, such taxes would also hurt Americans by "reducing the value of people's 401(k)s and IRAs."
"One of the reasons Biden really doesn't understand the importance of share prices … is that he's so old that he remembers in the 1960s, 10 percent of Americans owned shares of stock directly," Norquist said.
"Today, it's over 60 percent because of IRAs and 401(k)s and defined contribution pensions," he said.
Therefore, every single time Biden punishes investment, he damages the retirement equity of a majority of Americans, according to Norquist.
Advertisement - story continues below
"That is their life savings that he's trashing. He's going out there with a baseball bat and going through and breaking people's life savings and making them poorer when they retire," Norquist said.
"And he acts as if, 'Oh, I'm not taxing you, I'm not hurting you, I'm taxing big corporations 1 percent … OK, 4 percent.'"
In Summary
The policies and proposals detailed by the president Tuesday purport to lower prices.
Advertisement - story continues below
Instead, according to several well-informed experts, the result of such policies will be more expensive travel fairs, higher insurance premiums, no new medical innovation, devalued retirement savings, lower wages and less job creation.
It's undeniable: Biden's policies sound very pleasing.
But, as the old adage goes, there is no such thing as a free lunch.
Conversation